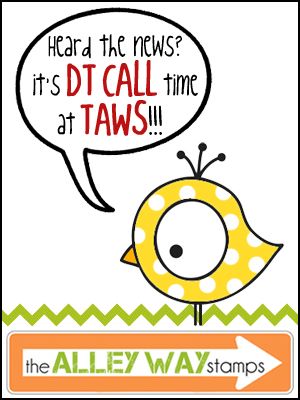 Hello! We're looking for a few new talented ladies to join the team, and are excited to extend an invitation to you! Here are some of the requirements as well as the perks of being on the team...
TAWS releases three to four sets each month, which the DT receives at least one month prior to release.

We have two challenges per month. The DT is required to make a card for each and comment on participants' entries to the challenge.

DT are responsible for ten cards per month (eight made using the new sets, and two for the challenges that can use any TAWS set. Of course you can always mix and match any TAWS sets together for any project.) DT MUST mail one card per new set back to Alison @ TAWS.

DT are responsible for adding their own cards to the TAWS blog posts (there is a calendar with appointed days) including a brief description/tip.

We have a private DT page on FB, where we all see the new releases and post our projects. Team members MUST be willing to participate with the group via Facebook.

DT get a 30% discount on TAWS products bought directly from TAWS.

The term will be for 6 months, from January through June of 2014.
To be considered, please a link to 3 of your best cards below, no later than 12 noon TAWS time on November 18th, 2013. Once you link your cards, we will email a short questionnaire to you to complete and return no later than 12 noon TAWS time on November 19th, 2013. We'd love to see your TAWS cards, but any products can be used. The new team will be announced on November 24th, 2013.
If you have any questions, please leave a comment along with your email address and we'll contact you!